Jadwal Beng-Beng JakCloth Year End Sale 2015
Beng-beng JakCloth Year End Sale (YES) 2015 akan menjadi penutup tahun 2015 dan juga pembuka tahun 2016 yang spesial. JakCloth YES 2015 ini tentu merupakan kabar gembira bagi para fashionista, shopaholic dan juga para pecinta musik. Mengusung tema New Year Carnival, JakCloth Year End Sale 2015 ini menghadirkan puluhan brand dan akan berlangsung selama 5 hari di 3 tempat di kawasan senayan sekaligus yaitu, Plaza Tenggara, Plaza Selatan dan Pelataran Istora Senayan. Tentu saja JakCloth YES 2015 ini terasa lebih spesial karena akan menghibur pengunjung dengan puluhan musisi di 3 panggung berbeda sekaligus, seperti Sheila on 7, Glenn Freddly, CJR, The S.I.G.I.T dan banyak lagi. Tentu tidak ingin event seru ini bukan? Berikut Jadwal2 berikan informasinya: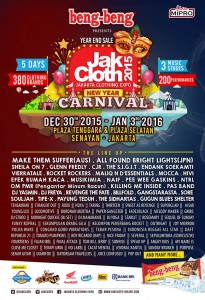 Jadwal Beng-Beng JakCloth Year End Sale 2015
Tanggal : Rabu – Minggu, 30 Desember 2015 – 3 Januari 2016
Lokasi : Plaza Tenggara, Plaza Selatan & Pelataran Istora Senayan, Jakarta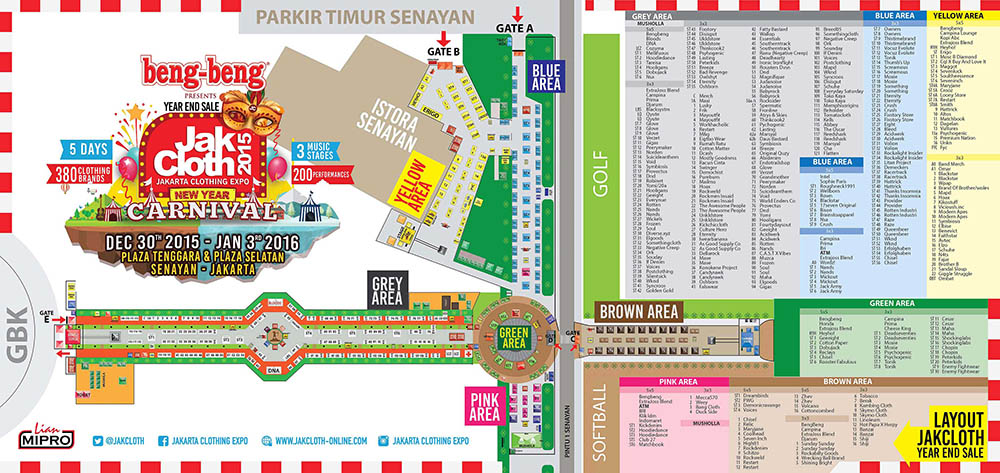 Brand List
Dreambirds| Crooz| Pierro| Reclays| Blackstars| ROWN Division| Seventy Seven| Brainsto| NSA| Crush| Dobujack| Erigo| Heyho Brand| Coz.u.ma/DeSree| Chisel| Rooster| Wellborne| Black System| Restart| CQL x by And Love It| Seven Inc| Demonic| Voices| Smith| Maggot| Bloods| GeeEight| Something Clothes| Dead Seveties| Screamous| Queenbear| Mellofous| Hoodiedance| Seven Luck| Rougneck1991| Soultheessence| Hooligan| LUSKY Wear| Fight.Ind| Qyute dan ratusan brand lain.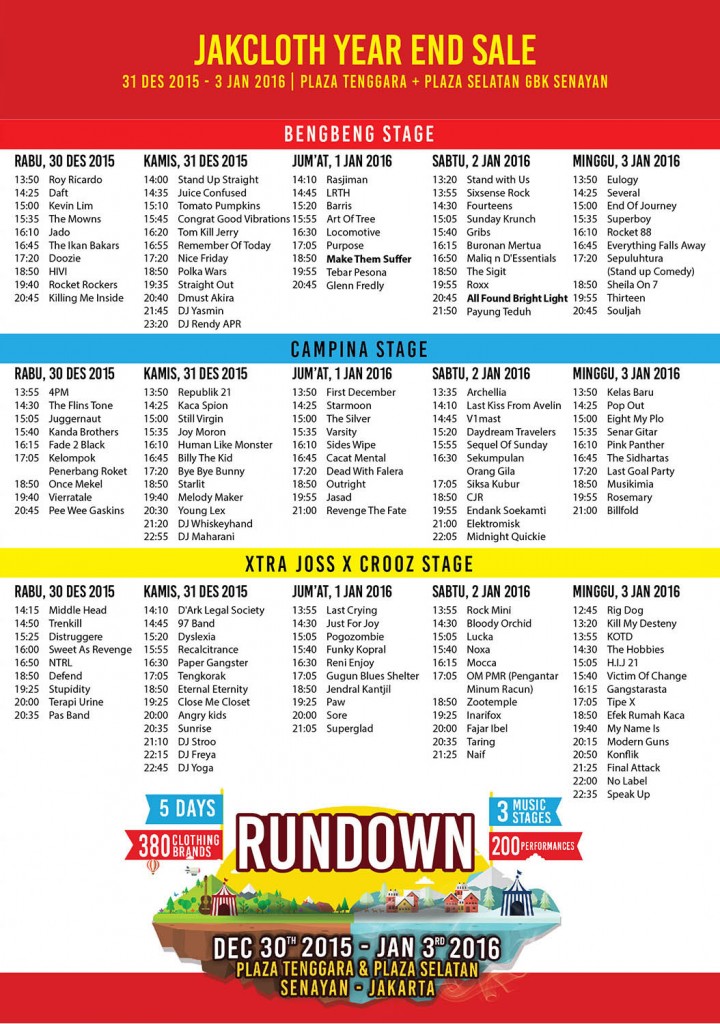 Band List
All Found Bright Lights (Jepang)| Make Theme Suffer (Australia)| Sheila On 7| Glenn Friedly|
CJR| The S.I.G.I.T| Endank Soekamti| Vierratalle| Rocket Rockers| NAIF| Maliq & D'Essentials|
Mocca| HI-VI| J-Rocks| Purpose (Reunion)| Efek Rumah Kaca| Musikimia| Mocca| Saint Loco|
Gugun Blues Shelter| Killing Me Inside| NTRL| Pee Wee Gaskins| OM PMR| Pas Band| Souljah|
Tipe-X| Nice Friday| JoyMoron| Midnight Quikie| DJ Yasmin| DJ Freya| DJ Stroo dan puluhan band lain.
More Info and Contacts:
Website : JakCloth-online.com
Facebook : Jakarta Clothing Expo
Instagram : JakCloth
Twitter : @JakCloth
Kata Kunci
JakCloth
•
JakCloth Year End Sale 2015
•
JakCloth YES 2015